WHERE THE SUN SHINES
Ekaterina Yastrebova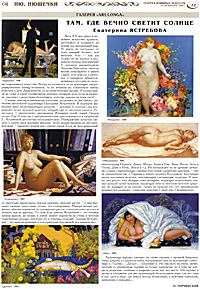 The whole XX century long the new and newest art ruined, dismembered and created the environment in a new way.
And nobody has suffered from these novations more than the women's body – how gentlemen of the brush have tortured and crippled it!
The Danish caricaturist Herluf Bidstrup, who has been very famous in our country, has a short story in pictures about a modest average man decided to visit museums of Modern Art. Everywhere he came upon now enormously exaggerated huge women – idols, now monsters looked like burned matches in the spirit of Giacometti, now Cubistic freaks.
Only when he went out and saw a slim girl driving a bike somewhere, he heaved a sigh of joyful relief: there is beauty in this world! Just the same you feel nowadays seeing the works of the Moscow painter Ekaterina Yastrebova at exhibitions.
This unkind modern world cultivates spiritual and bodily monstrosity, but she revives the cult of women's beauty from the masters of the early Renaissance – Quattrocento, who painted the Woman just like the Maker had created Eve.
The similarity with Quattrocento artists is in the painting of E. Yastrebova rather consecutively. The image is often reduced to one or two big figures sharply drawn to details on the velvet black or deep blue abstract background. If the background is natural, every blade of grass and every flower are drawn carefully – and the world looks fresh, joyful and just created.
The manner of the painting is graphic, sizes are expressed not trough the colour gradation but through the light and dark contrast as on frescos.
Properly speaking the works of Yastrebova are ready sketches of frescos, they could be put on walls and ceilings of modern palazzos besides the suitable theme. The female heroines of Yastrebova are the pantheon of antique and allegorical characters: the whole team of muses – Parnassians, Danae, Flora, Adam and Eve, the Winter, the Spring, the Summer and the Autumn, Day and Night, Earth etc.
But they are represented not by ancient Greek women, but our contemporaries, playful plump women, great granddaughters of beauties not of Quattrocento artists, but of Titian and our native Kustodiev.
They challenge bony models occupying podiums today. And it is also important, that the person who paints these women, is a woman. She knows all about Eve's daughters better than men, who pretend to be experts on the female nature but see it in their way, purely in a masculine way (what is called by American feminists as "male-pig chauvinism"). The artist looks at her characters quite often with irony (however very kind one) and kids their little frailties ("Small cake", "Dessert", "Shopping").
But she likes them all very much that's why her naked characters are not only beautiful, but also kind and joyful. There is no room for spiteful and greedy ones among them. They feel themselves well and comfortable in the created for them carefree world, where there are no grief and harm, thunderstorms and storms, the heaven is always cloudless here, and men are in love, trustful and obedient…
O. Torchinsky